A traffic circle at the intersection of U.S. 17 and the F.J. Torras Causeway? Different colored smoke to signal changing tides emerging from the adjacent Pinova smokestack?
Those are among ideas 10 Savannah College of Art and Design master of urban planning students presented to the community Thursday as part of a project to spruce up entryways to the Golden Isles and remove blight along the primary artery of U.S. 17.
Some of the ideas may seem grand, but the proposals were received with optimism that elements could gain support from community members who piled into the standing-room-only space of Old City Hall for the presentation to see what the future could hold.
It is unlikely that any one concept, created during a 10-week period, would be adopted in its entirety, offi cials said, but each provides ideas that can inspire improvements and developments.
Ryan Madson, SCAD professor who taught the students' urban planning course, said students tried to create a "boulevard feel" in their plans.
U.S. 17 could dedicate one lane to through-traffi c and another, with a slower speed limit, to destination traffi c. Some city streets, such as Prince Street and Ash Avenue, that end a block before the highway could be connected for easier access to Brunswick. Industrial sites could be buffered with trees and shrubbery.
Putting three medians in the roadway could provide a pedestrian refuge and encourage motorists to see the thoroughfare as a destination itself.
Now, it's up to local offi cials to make a vision a reality.
"This is really a beginning point," said Brunswick City Commissioner Julie Martin, who represents the city in the gateway discussions.
There is no time frame for the project. Scott McQuade, executive director of the Golden Isles Convention and Visitors Bureau who has spearheaded the project, expects it will require a longterm approach.
During the beginning phases of the project, community leaders heard from a representative of Beaufort, S.C., which renovated its gateways. That planning took fi ve years and has only recently come to fruition.
"That's probably the most challenging question people ask me," McQuade said. "They say, 'OK, we want it, but when?"
Revitalizing the county's major roadway is a notion that has been broached in the past, but McQuade maintains this time is different.
"I think this is our fi rst partnership between the city and county and the (visitors bureau)," he said, noting that is what sets this effort apart. "When people ask me how we're ever going to get this done, my answer is: together."
He said the project is about controlling the destiny of the Golden Isles. The time to do it, Madson says, is now.
"This seems like a historic moment in the community, where the city and county are collaborating for the first time in probably years," he said.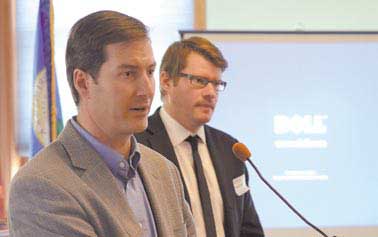 Huntley Allen, who began a grassroots effort to clean up the county's entryways, is optimistic the partnership will continue, because, he said, revitalization has to take place.
"If it doesn't happen, the community will just kind of dry up," Allen said.
To Allen, the details of the proposals aren't as important as the inspiration they might foster.
Still, improvements must be funded and plans have to approved for progress to be made.
"The hard part starts now, and that's trying to fi gure out how to make it happen," Glynn County Commissioner Clyde Taylor said.
Though the proposals presented Thursday were for the fi ve miles of U.S. 17 from Spur 25 to the Sidney Lanier Bridge, future discussions will include all the area's gateways, including roads such as U.S. 341 and Ga. 99.
"The things we change on (U.S.) 17 should be able to be applied to all of our gateways," McQuade said.
• Reporter Nikki Wiley writes about government, business and other local topics. Contact her at nwiley@thebrunswick news.com, on Facebook or at 265-8320, ext. 321.